Wonder Slave Episode 0.6 focuses on developing Wonder Woman's storyline through the lens of her past and forgotten memories. Therefore, a long-time enemy of the superheroine who has not yet lost hope of getting even with her will join your team.
Getting to plan B
Wonder Woman's mind is fucking inconceivable. Time and again, when she finds herself on the edge of collapse, losing the last shreds of her self-respect, she still manages to keep her wits and not let her guard down. Despite the almost inevitable defeat at hand, she tries to keep the fires of hope burning bright.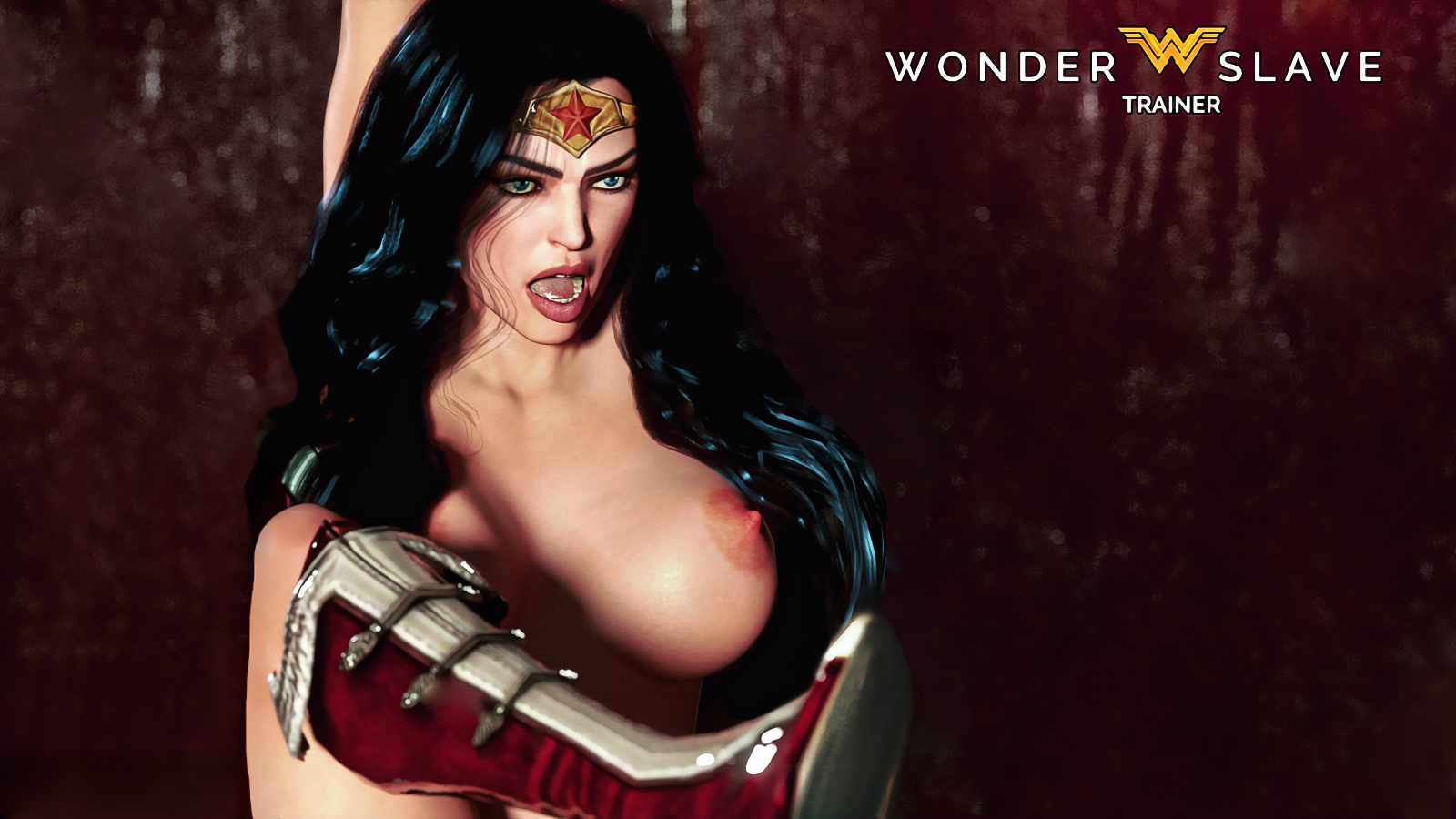 Of course, all this is annoying, but there is no cause for alarm. Patience, my friend.
You have a trump card up your sleeve as always to demoralize Wonder Woman. It's time to play it.
Join forces
Sometimes the enemy of your enemy can be your ally. How about fresh blood?
There are two definitely hardened female Nazis who have a seething animosity toward Wonder Woman. Moreover, they have an old score with her.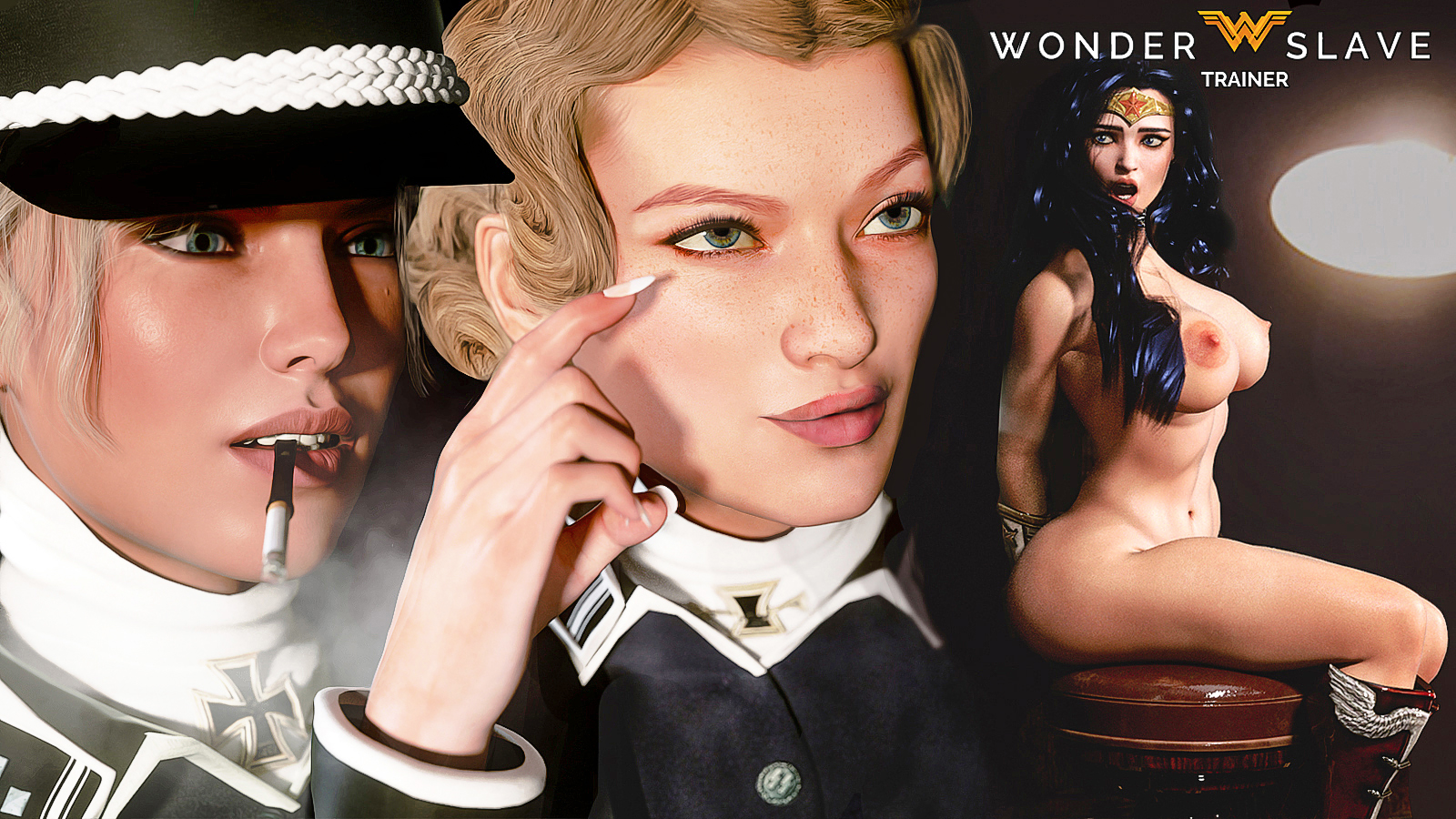 These Aryan females, dedicated to the values of the Third Reich, will go to great lengths to retaliate against the Princess of the Amazons. Thus, you can take advantage of their blind rage to attain your own ends.
А waking dream
Once Wonder Woman gets absorbed in the endless procession of her nightmares and dark fantasy, the Nazi alpha females emerge from the shadows to rule the night.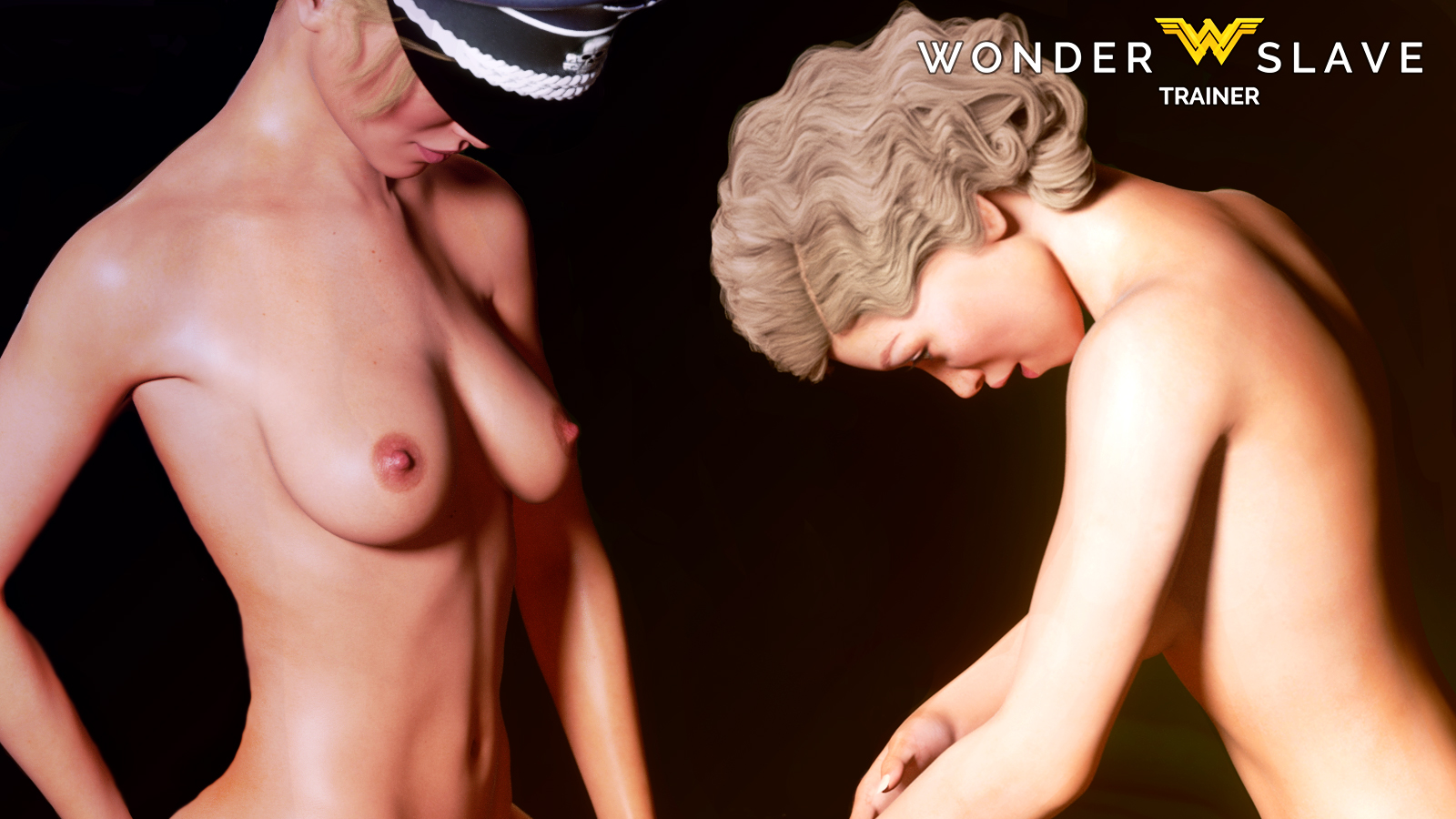 Ordnung muß sein. There must be order.
It seems the Nazi chicks have some code of conduct to follow. They always try to go by the book. Secrecy is above all. The details of their operation are veiled in secrecy. At least they think so. But no one can keep anything from you. Grab the popcorn and enjoy the night show.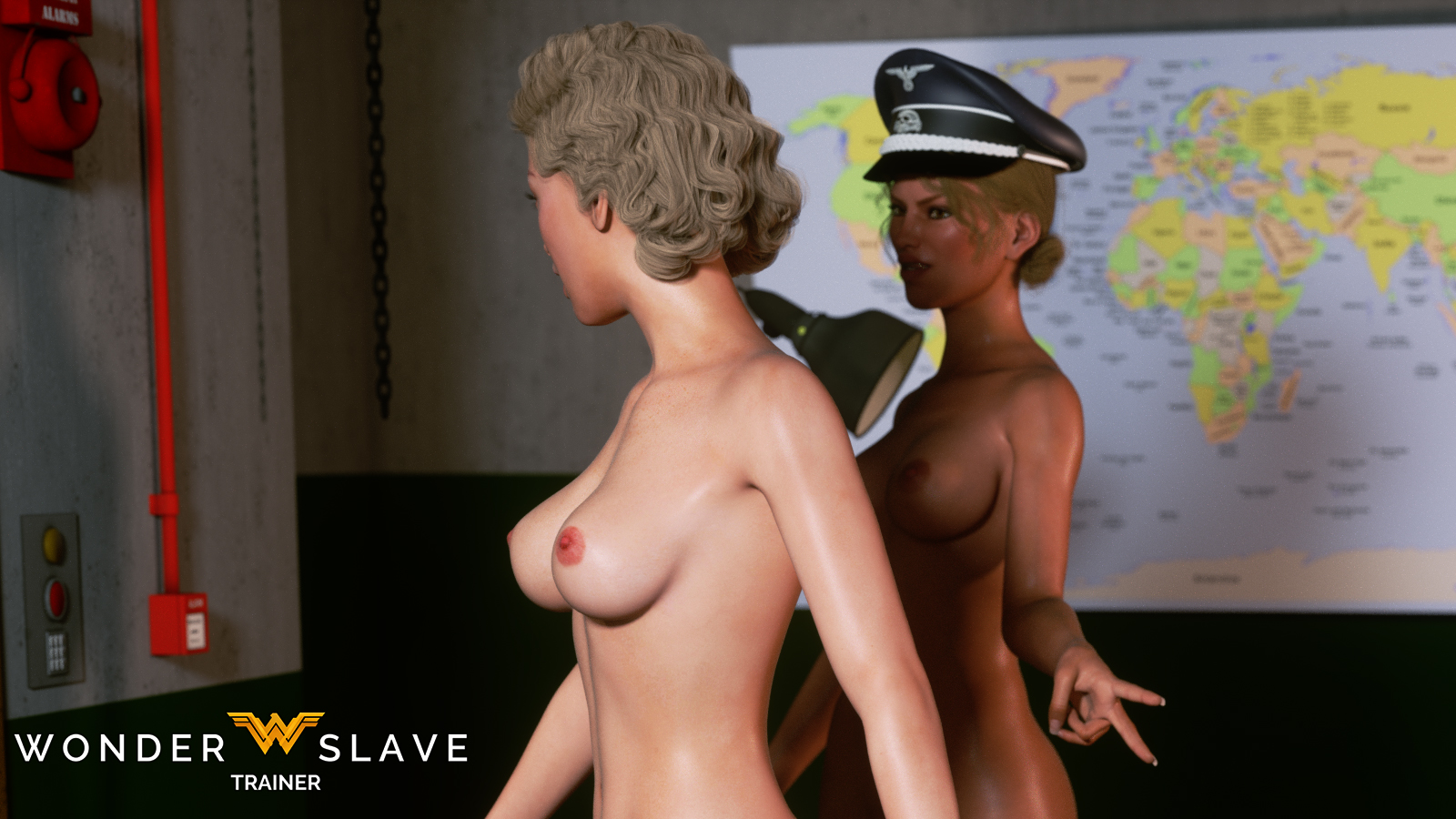 Wonder Weapons
Encouraged by a foretaste of vengeance, the Nazi female villains came heavy (i.e. with a full arsenal of BDSM stuff). All these hardcore things are worthy of your focused attention and study.
1. Bitchiness Blocker
Your Nazi allies know how to communicate effectively with such a catty bitch like Wonder Woman. Besides, they're convinced that nothing contributes as much to a fruitful dialogue with her as an anal plug.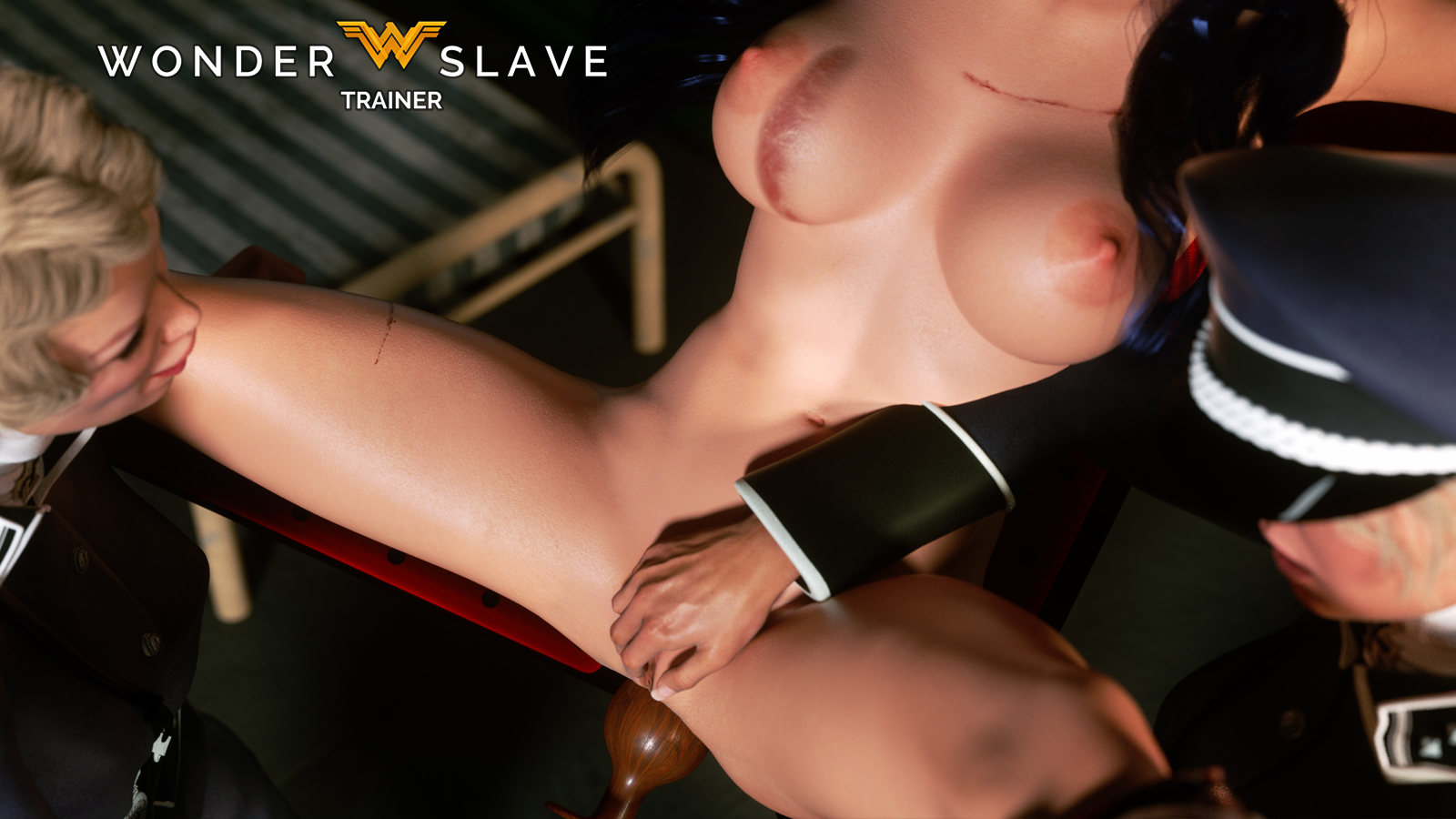 2. Superhero Tamer
You managed to have a sneak peek at one of the Nazi wonder weapons, a perfectly sophisticated sex machine that apparently can cater to every kind of kinky need. It's a kind of design thruster in every sense of the word.
In other words, it's going to be a bumpy night for Wonder Woman. 😂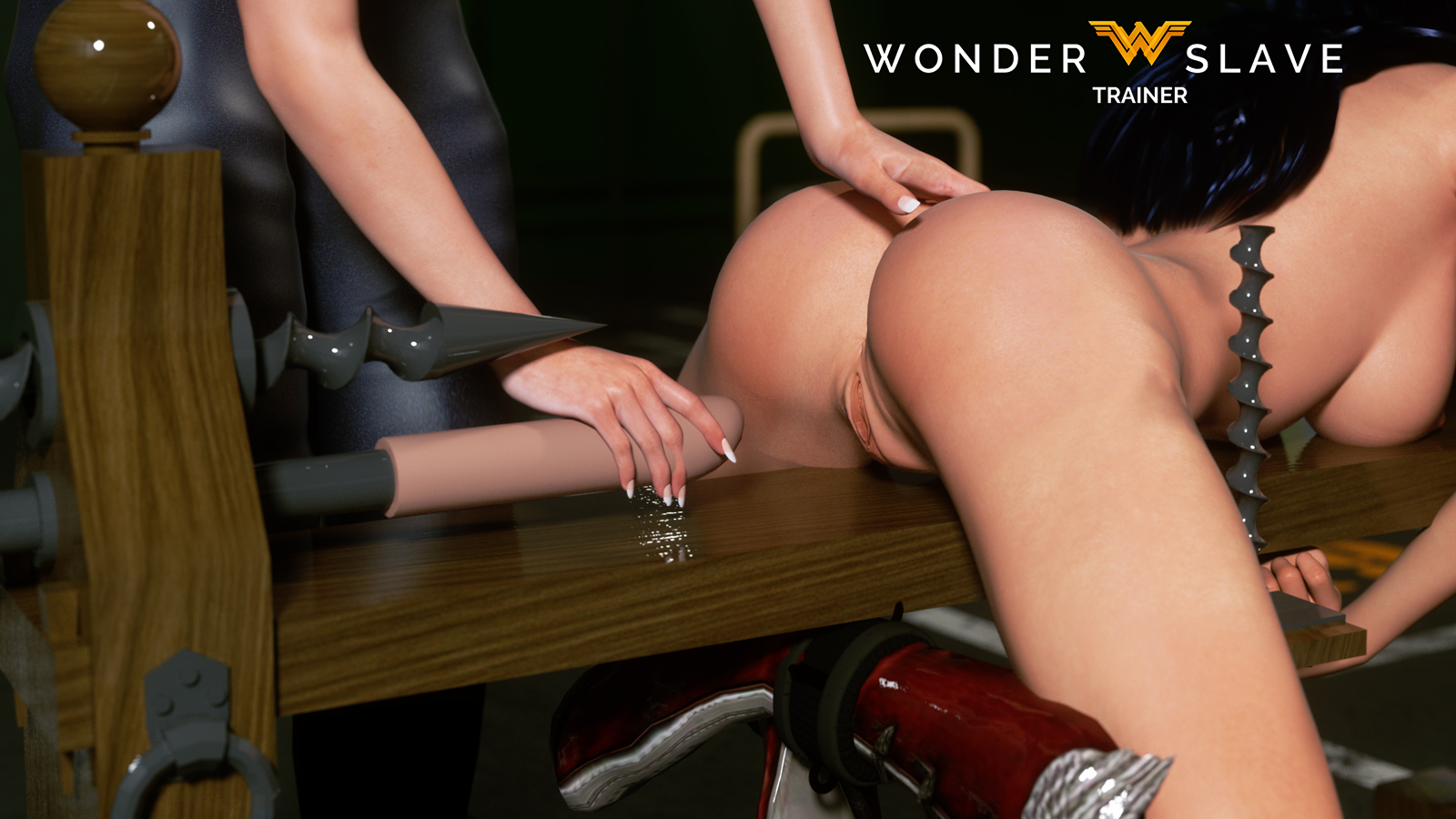 3. Whip of Humility
This is a bummer for any self-centered female superhero who will receive a real beating with that lash. The Whip of Humility leaves behind not only the marks but shame and powerlessness in a toxic brew of self-destruction.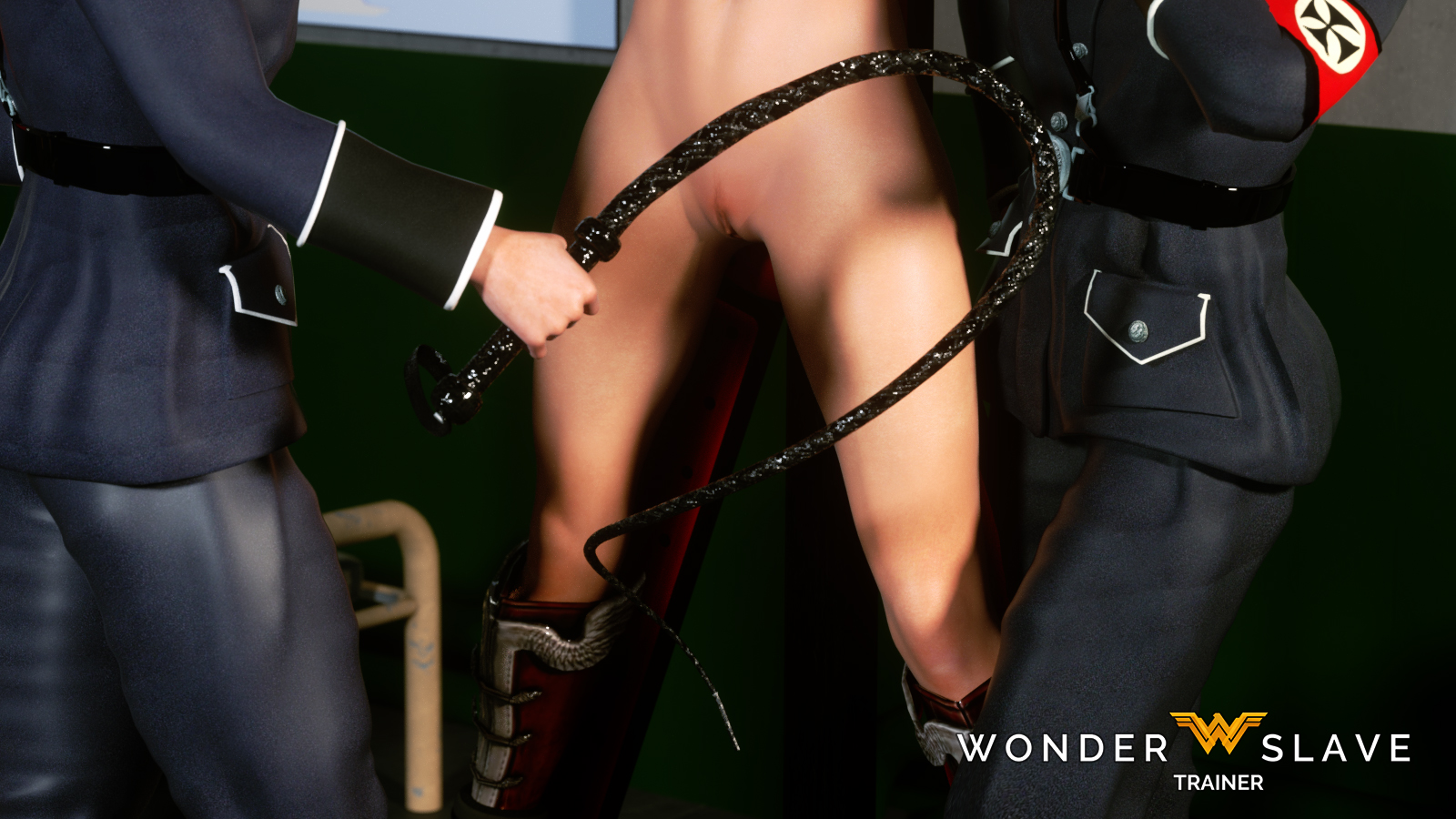 4. Magic Boob Pegs
Сlothes pegs are seemingly innocuous enough, but, in the Nazi hands, they are transformed into instruments of torture.
Something tells me Wonder Woman will never want to stick out her chest in pride again. 😂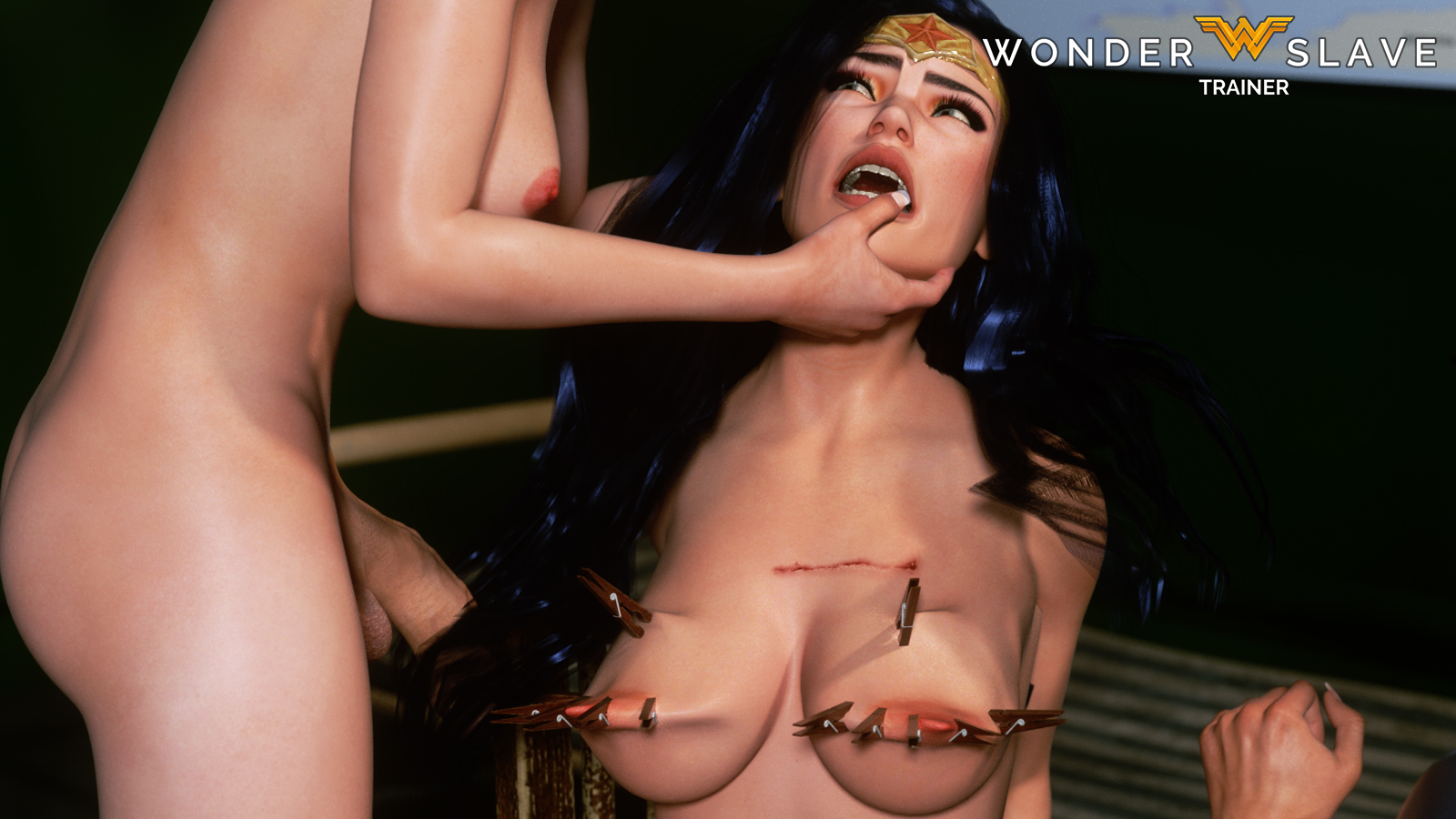 There you have it, all the BDSM instruments are ready to work. You'll learn more about those devices when you snoop on Nazi nighttime activities.
Nazi Futa Fun
Holy balls! Wonder Woman has hit the futa jackpot.
This is exactly what happens to the Princess of the Amazons after a huge throbbing surprise lurking beneath the Nazi trousers finally comes into her view.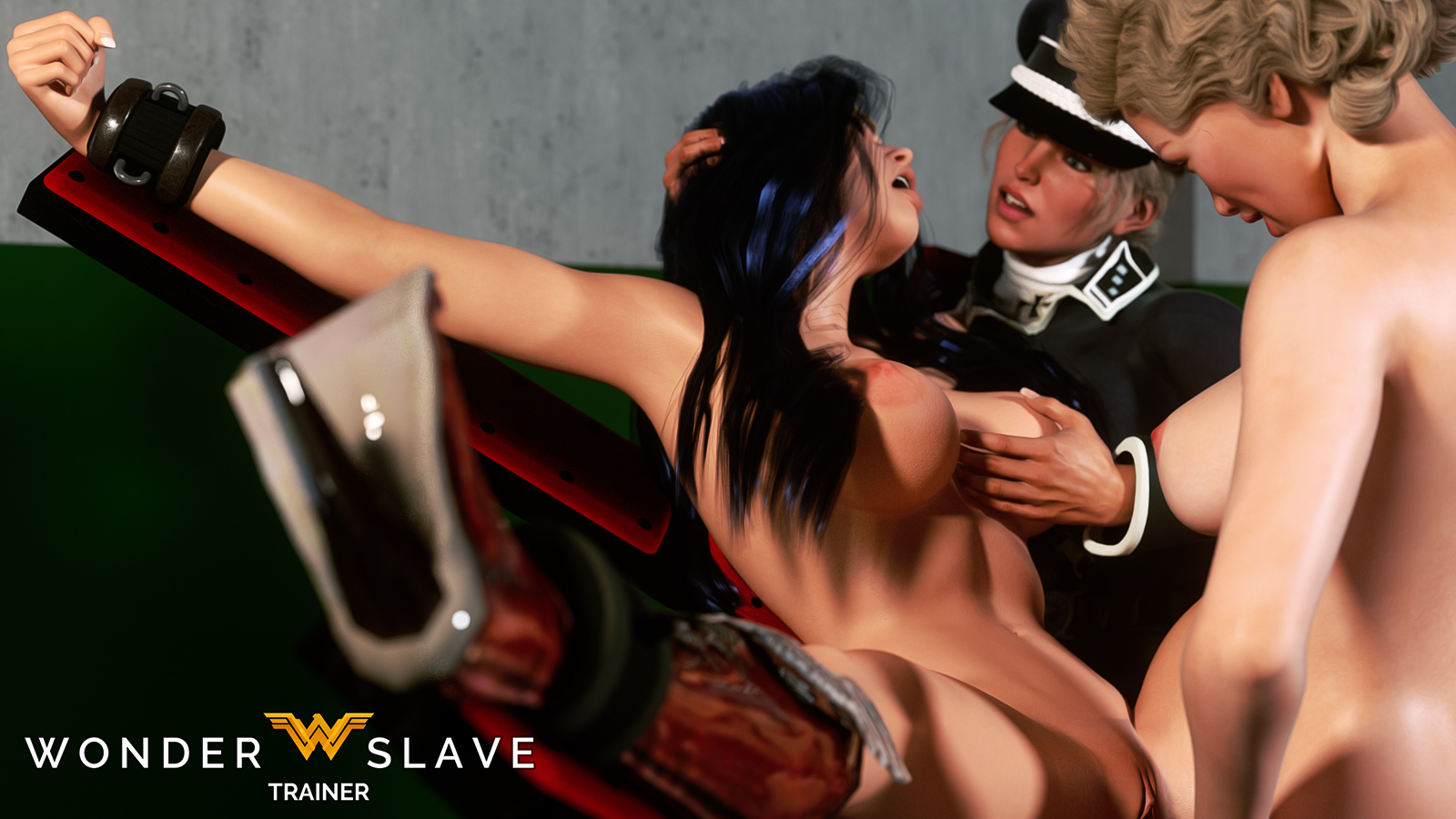 Inside Wonder Woman
It looks like Wonder Woman has summoned every last vestige of her courage within her butthole and vagina ready to face any challenges with determination and faith. But it's nothing those Nazi women can't handle.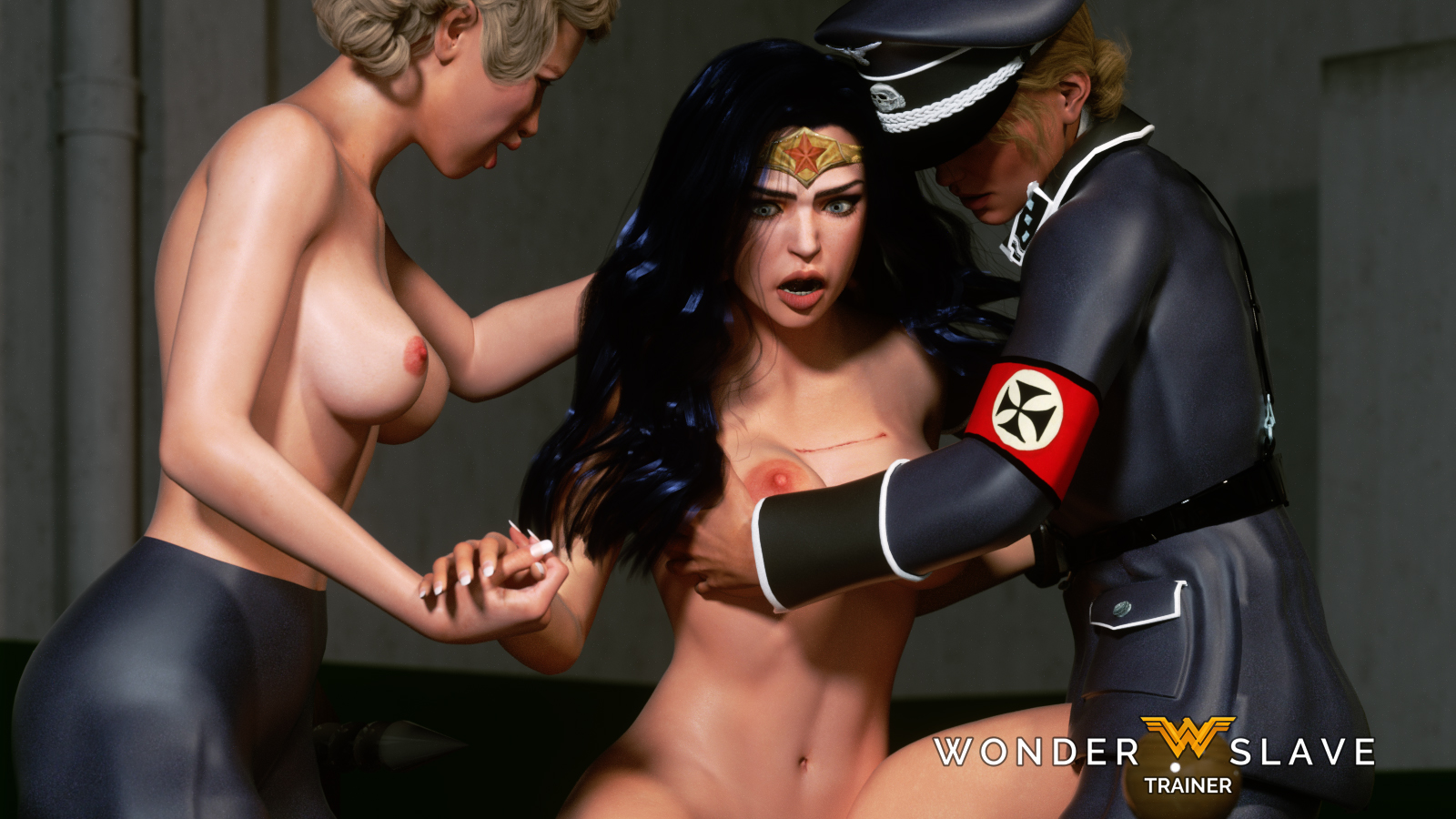 Armed with the knowledge of Wonder Woman's vulnerabilities, the Nazis decided to conduct a series of kinky experiments on her to explore her limits and find out just how far her mind can take her.
1. Double Ordeal
Overconfidence engulfs many female heroes and they overindulge in the particular vice – vanity. Wonder Woman is not the exception too.
Diana Prince tricks herself with her absolute belief in her own invulnerability in vain. This will come at a price.
So it's time for a good "double-team". And this isn't about basketball.
Helga and Ingrid, the futa officers, got together to double team Wonder Woman tonight.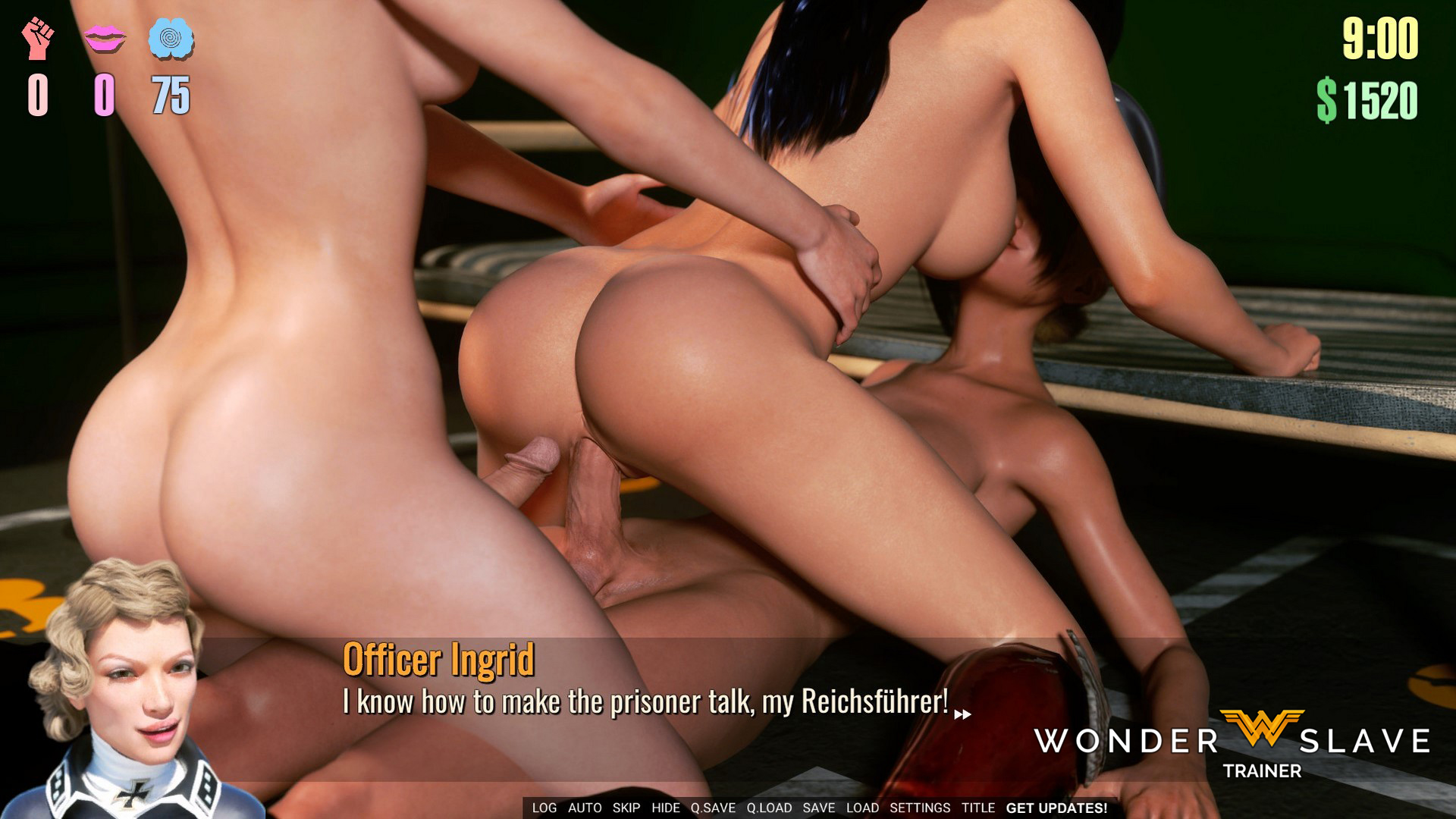 The Nazis will do their utmost to sow a seed of self-destruction in Wonder Woman's mind. Furthermore, the alfa futas won't miss the opportunity to plant their seeds in the superheroine's private places.
2. Monstrous Ordeal
Some predators will paralyze their prey with poison. For this aim, the Aryan daughters have something better than poison. It's a mutant, nicknamed Superhuman, the latest achievement of the Nazi scientists. This monster can immobilize any female superhero with one lewd gaze.
Wonder Woman doesn't even know all that is to befall her tonight. The craziest night of her life is about to begin. Two Nazi dickgirls and the Superhuman will come together to have foursome fun with her.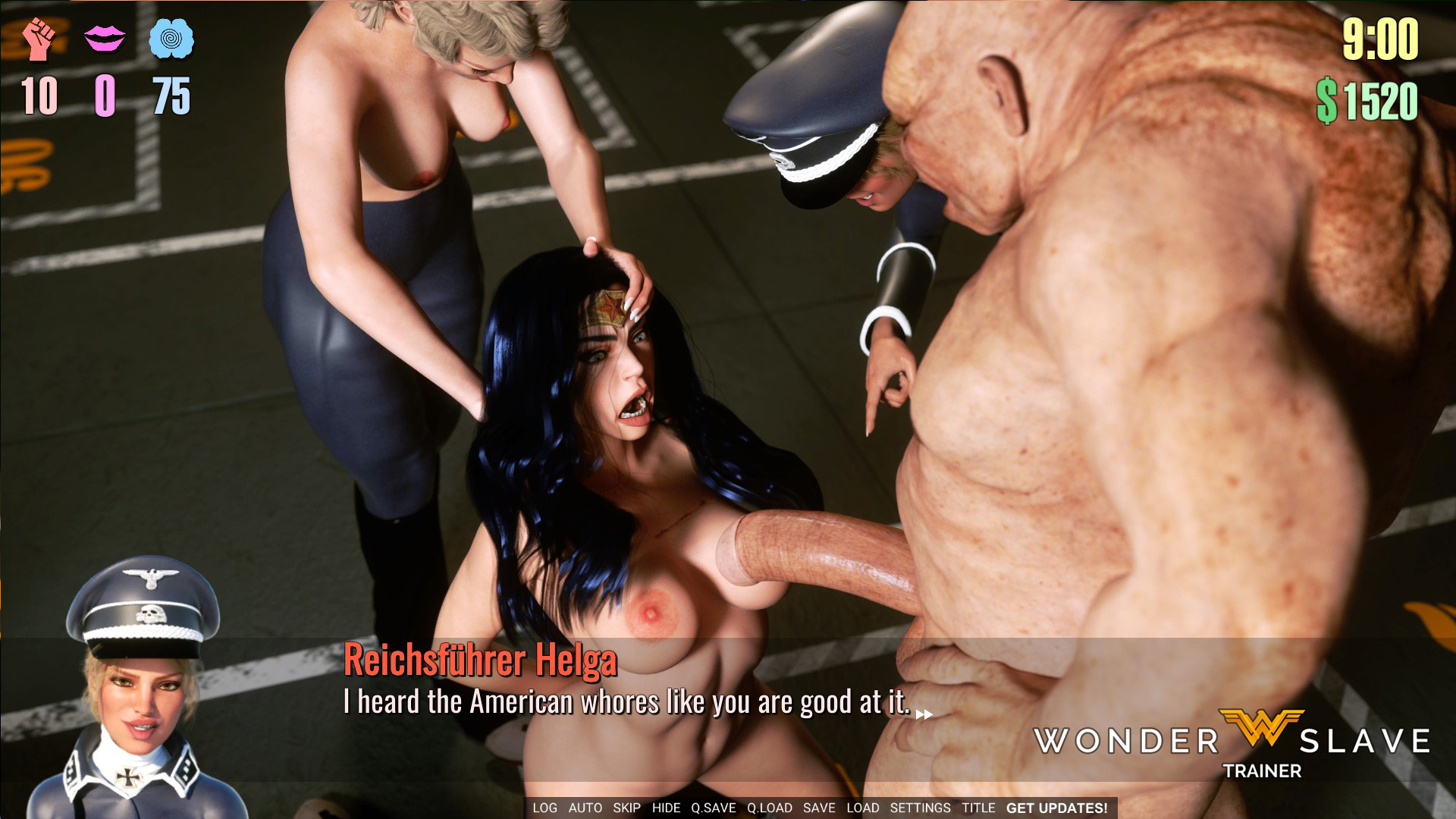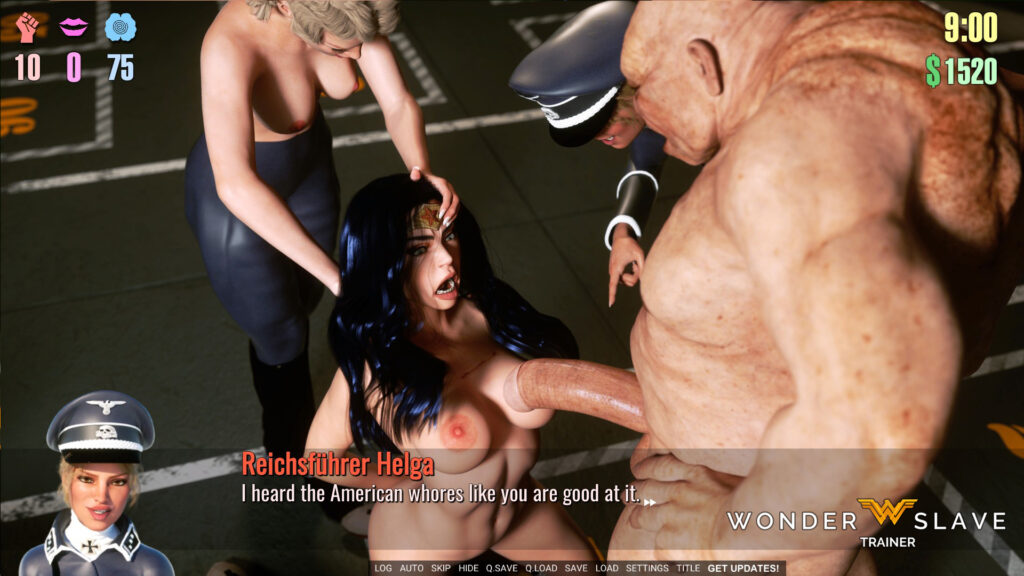 3. Suffocating Ordeal
The Nazi alpha females are outraged that the Wonder Slave doesn't practice her deepthroat skills as often as necessary.
It goes without saying that a good deepthroat takes a lot of practice and time to hone.
With German meticulousness, futa officers will commit themselves fully to correcting the reported shortcoming.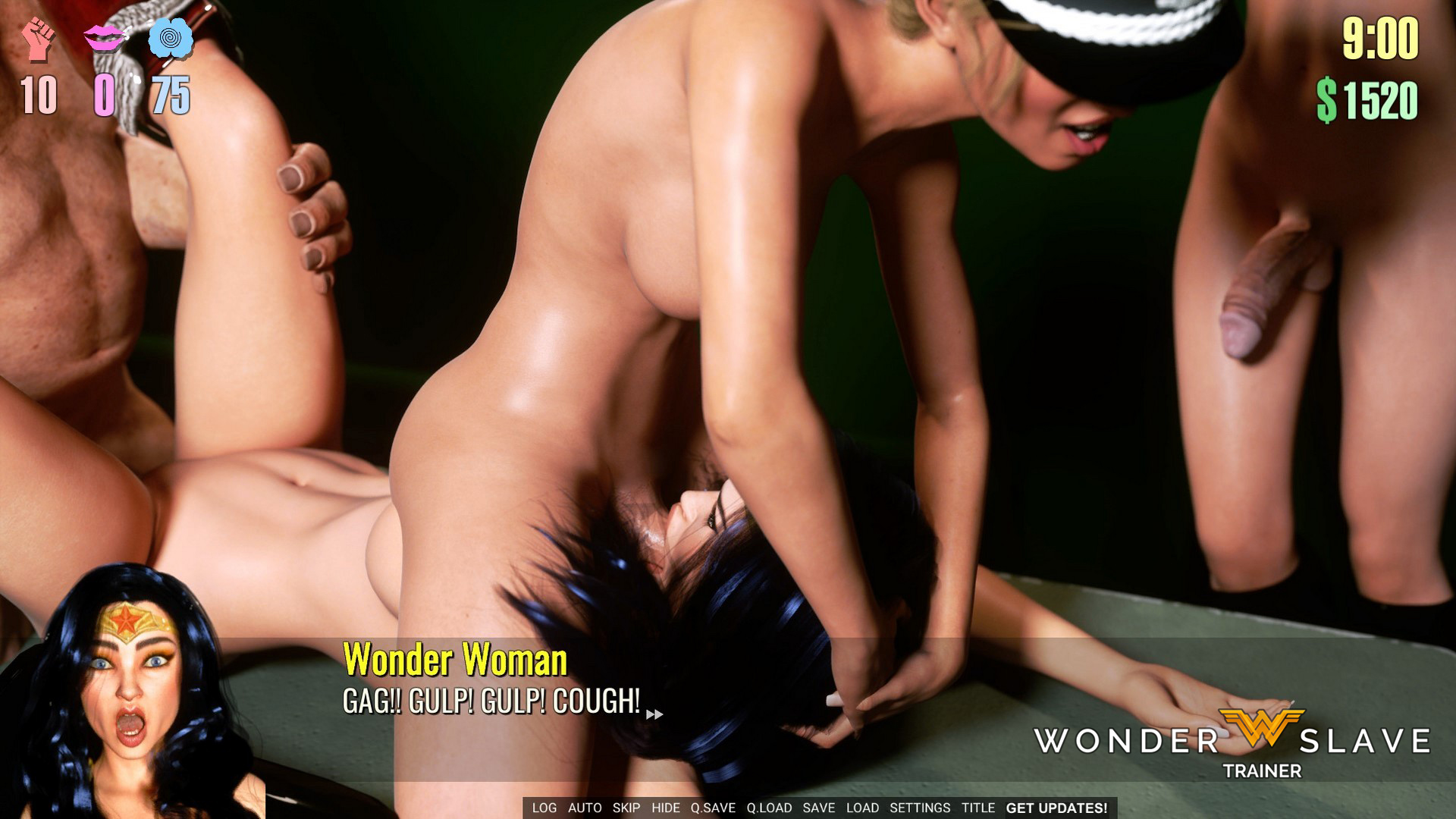 The Nazis will also breathe life into the taboo kink that is a breath play. They'll go to great lengths to knock some sense into Diana's thick skull.
Doctor Hypno & New Patients
With the exacerbation of maniac episodes among your henchmen, Doctor Hypno is getting more work. She is going to help them, but her approach is highly unorthodox, so keep your ears open, Puddin'.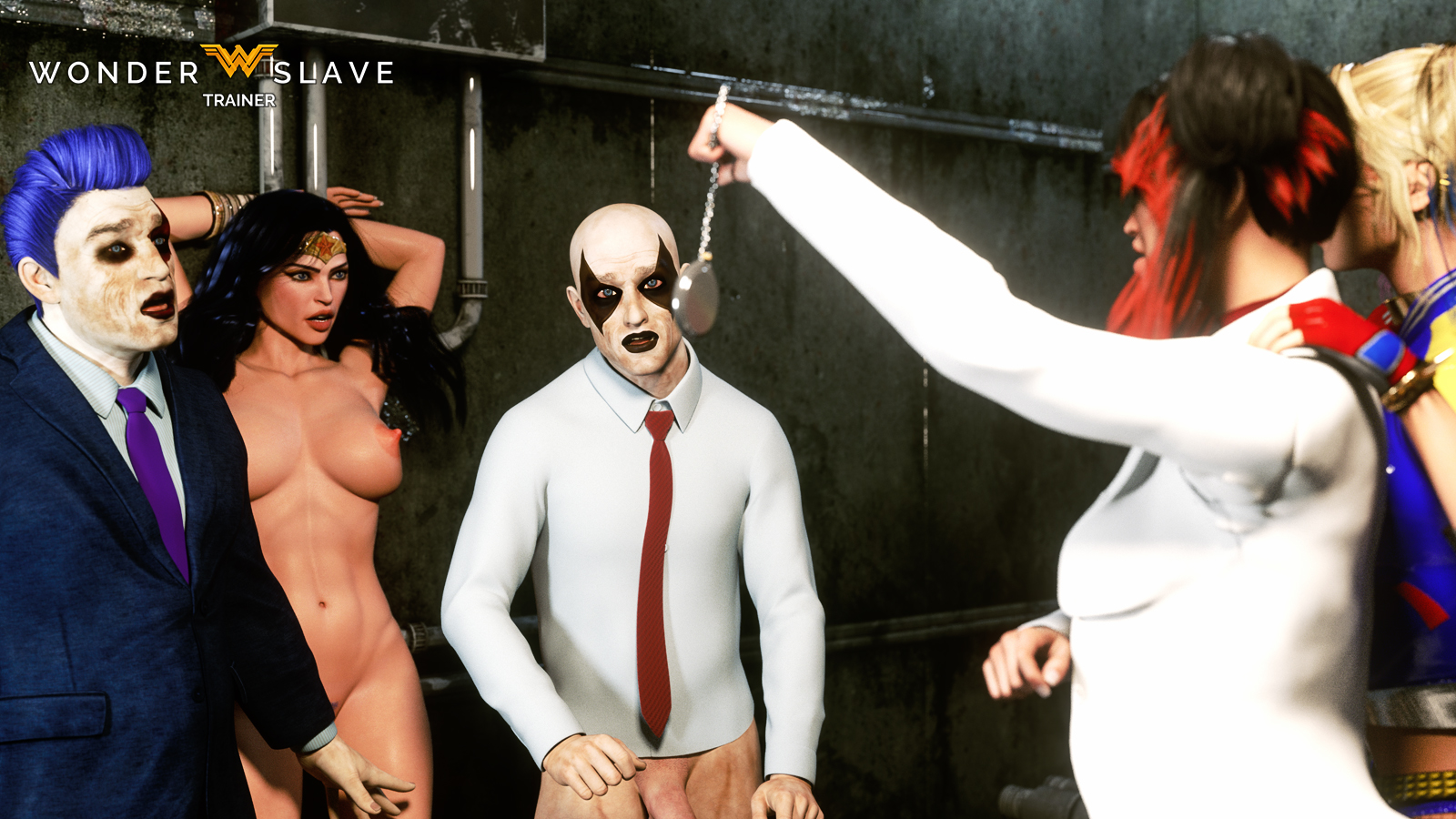 Work is the source of all good
It feels like Wonder Woman is a bit down in the dumps and needs cheering up. Luckily Harley has the perfect plan to kill the superheroine's boredom, and the best thing is it barely needs any effort from you.
Occupying Wonder Woman with something useful should distract her from constantly thinking about heroic everyday life. Her labor for the good of your criminal empire will be a great mockery of the superhero team. And equally importantly, it can become a stable source of your income.
So, what kind of job is it? Let's see.
Harley Quinn scurries off to a storeroom and returns with a maid uniform that looks like she stole it in a sex shop.
"Ta-da! Workwear for Wonder Woman!" Harl cries out proudly.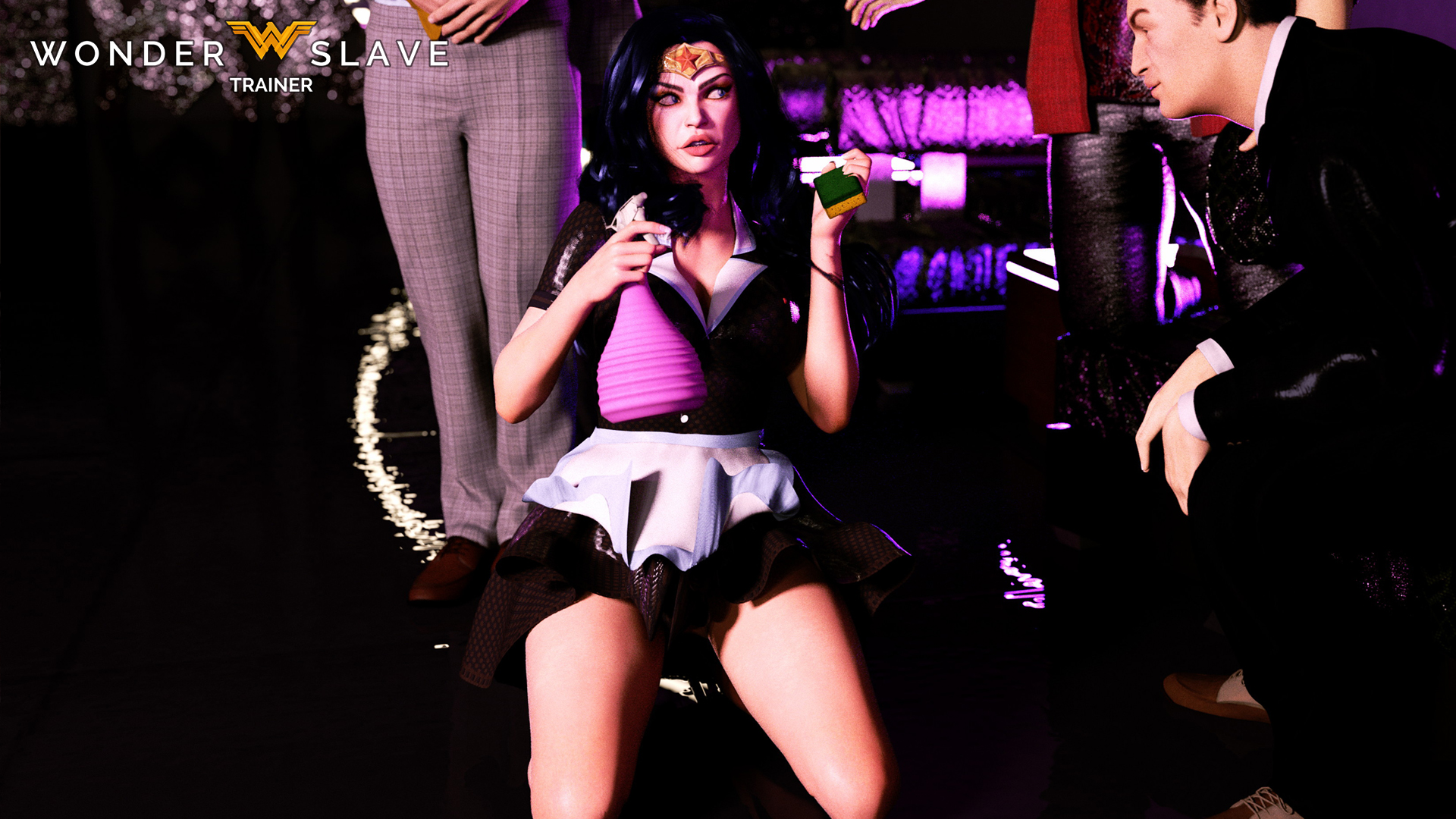 As you know, all work is ennobling. Maid's job in a nightclub will allow Wonder Woman to saturate her life with new kinky colors, fill the boss's wallet with green stuff, please the audience and make this world a little bit cleaner.
Good luck with all that, Puddin'!
Work even harder to achieve your goal. And your victory will be extra sweet!
Wonder Slave Trainer 0.6.4 is out.
Changelog:
v.0.6.4
Added:
+5 New Deepthroat animations.
Fixed:
Fixed Video Playback on Win10 (HD to 4K videos 20000 bitrate H264 codec).
Fixed Hypno Event "Japan Schoolgirls".
GUI bug in the Black Widow Prison event.
Minor bugs.
v.0.6.3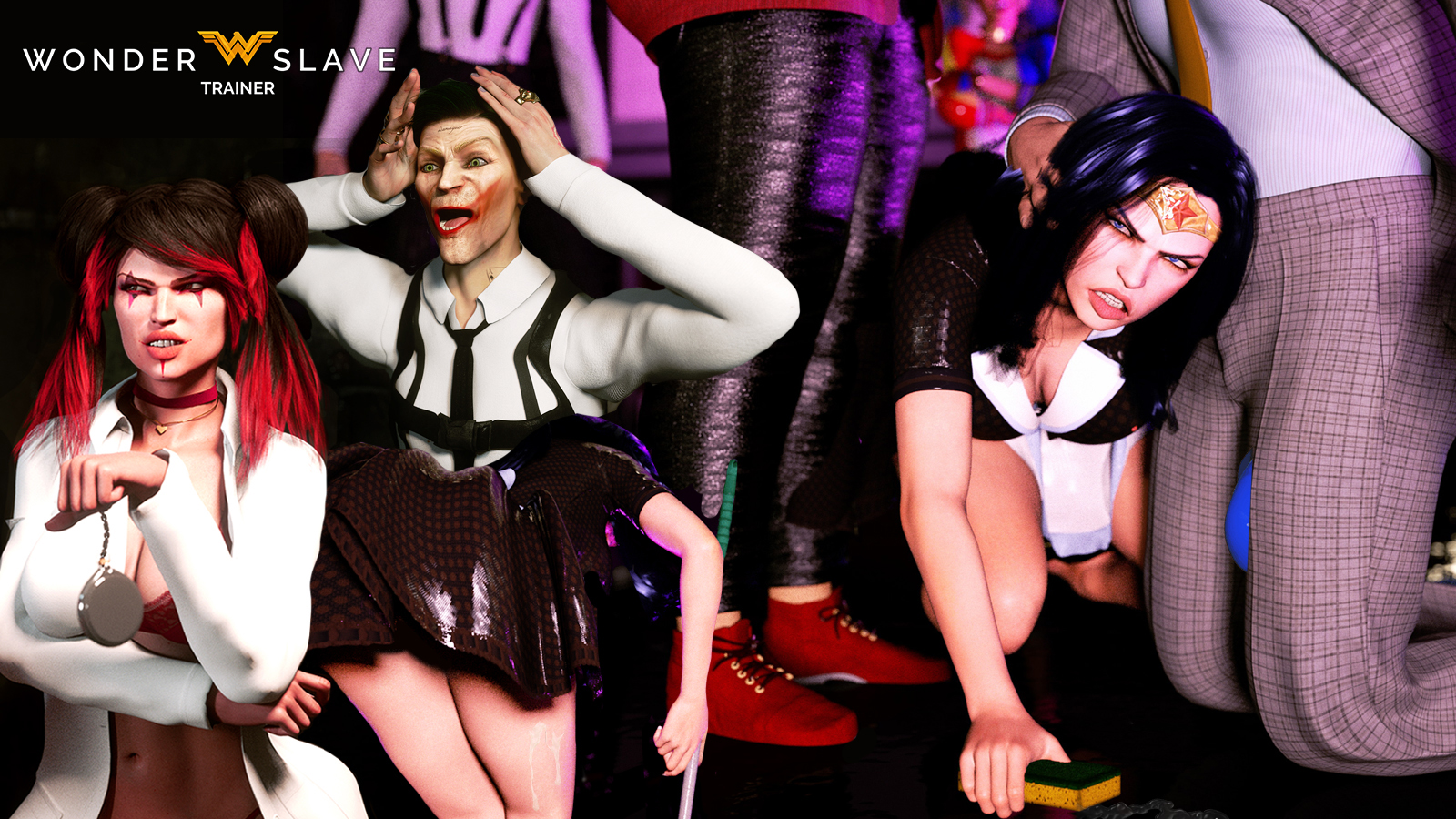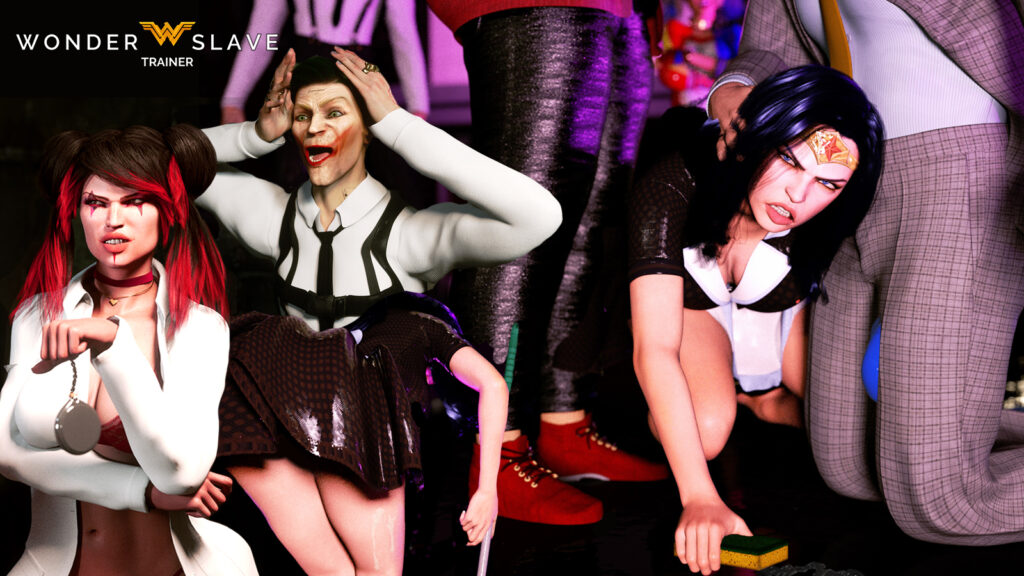 Added:
"Dr. Hypno meets Japan Schoolgirls" story event.
"Wonder Woman as Sexy Maid" event to earn a lot of $$$ once a day.
New poster with Starfire for the upcoming WST 0.7.
Fixed:
v.0.6.2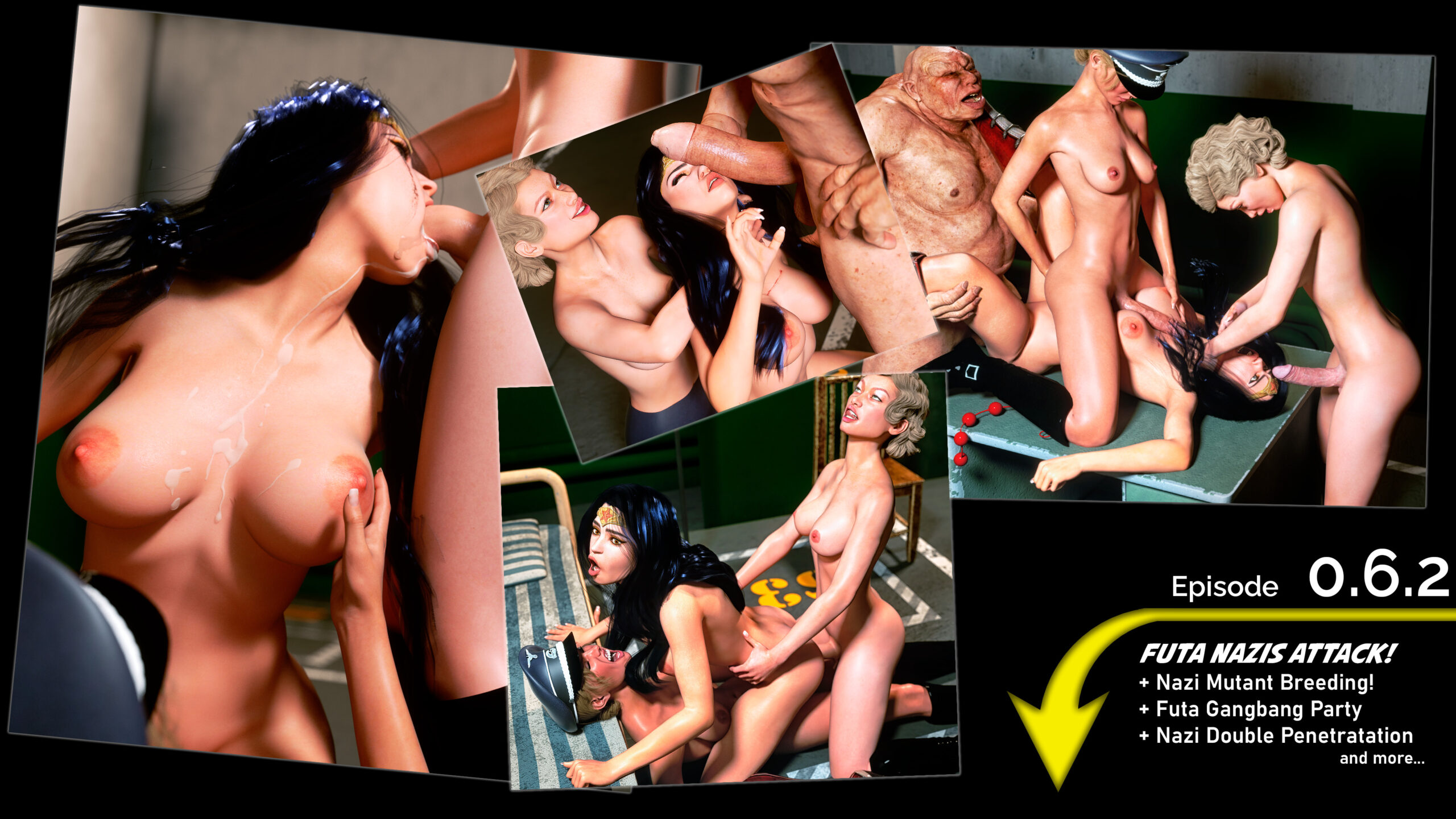 Added:
6 Wonder Slave vs Villains animations for the Nazi Gangbang training.
2 Major Nazi XXX events (+110 renders total).
Mutants Gangbang.
Nazi Double Penetration.
Special Nazi oral tortures animation.
A lot of XXX sounds to all the Nazi vs Wonder Woman events.
Improved:
Fixed one dice roll's bug in the Hardcore mode.
v.0.6.1
Added:
"Nazis vs Wonder Boobs" event.
"Whipping Wonder Slave" event.
"Wonder Pussy Hard Fucking by Futa Nazi" event.
"Wonder Woman and Nazi Sex Machine" event.
"Nazi Anal" event.
Updated:
Support us on Zuleyka's Patreon to
Windows | Mac | Android
Other versions:
Do you have any questions?
Ask us in the #wonder_slave channel on our XXX Discord!
Or in the comments below 😉